Do you have what it takes to become the ultimate paintballer? Are you a great leader or more of a team player? Will you come out all guns blazing or prefer the stealth attack?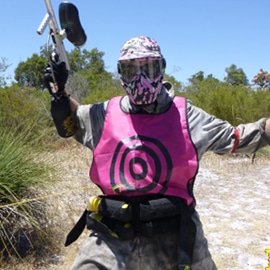 However you play, book a session of paintballing through IPG and challenge your mates to see who is the last man standing on the paintball field. Bring one friend or bring them all as paintball caters to groups of any size.
With IPG your paintball experience will be one to remember. From the booking process through to your last game, choosing the world's largest paintball agency to look after your event will be the best decision you make.
Let our team of experienced event coordinators look after you and your friends. Just choose a date, get as many friends together as possible and call us to get the ball rolling. We'll get you booked in to one of our incredible IPG-approved paintball centres to ensure you get the ultimate paintball adventure.
There is nothing quite like it! Roaming the bush with your best mates, decked out in camouflage overalls with a paintball gun in your hands searching for the enemy.
From special birthday occasions to youth groups, and corporate events to stag/hen's parties, come and experience all that the sport of paintball has to offer in terms of action, excitement and adrenaline-pumping thrills.
You haven't experienced paintballing at it's very best unless you've booked through IPG. With the best paintball centres in the country, we are primed and ready to entertain you and your mates to a paintball adventure of a lifetime.
Contact an event coordinator today on 0800 667 118 and book your next paintball adventure with the world's largest paintball agency.